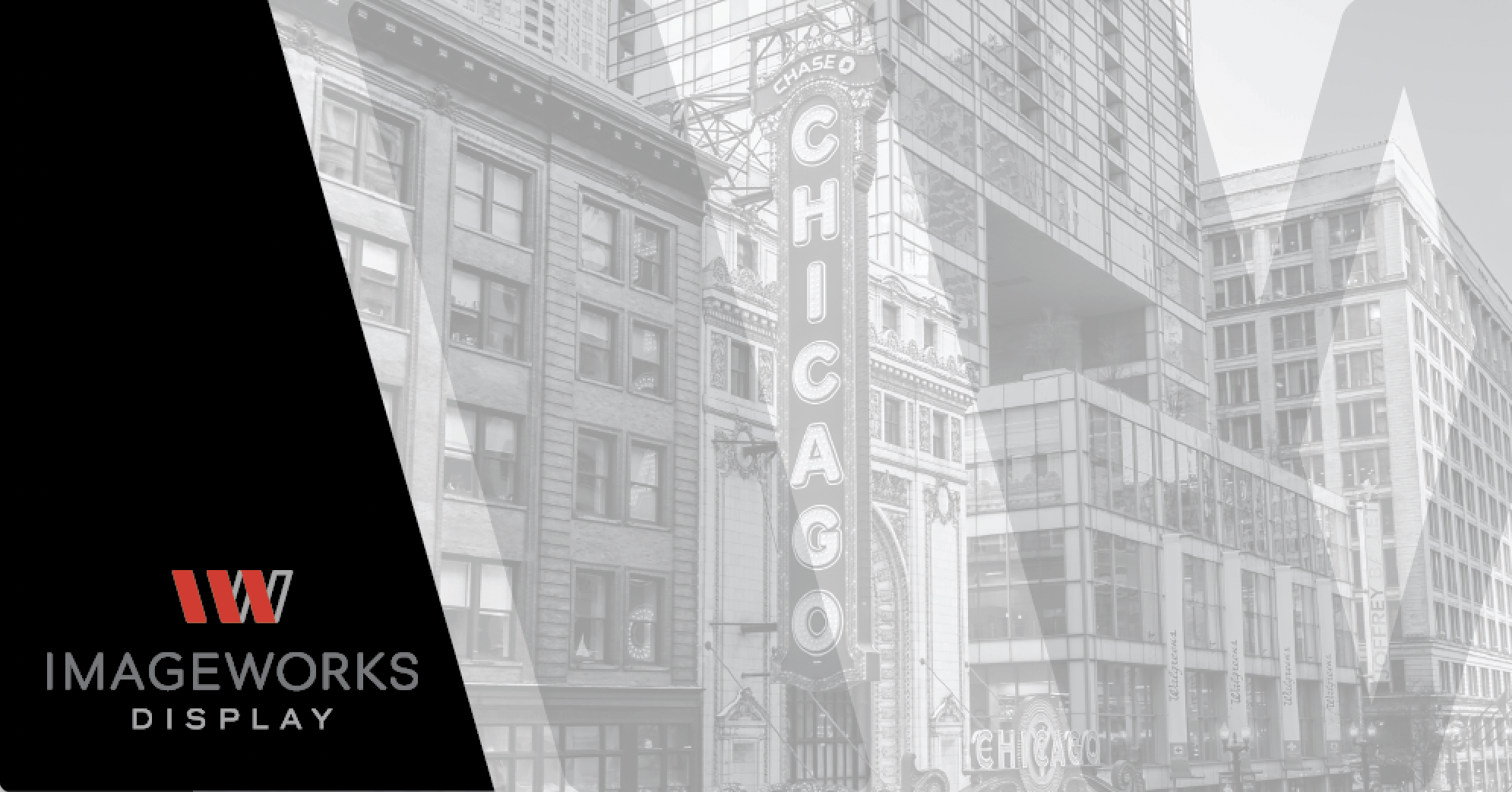 October 6th through October 8th, ImageWorks Display will be exhibiting at the NACS show in Chicago, IL. As always, we are looking forward to spending this time connecting with our clients and partners, and after last year's cancellation in the wake of COVID-19 – there is much to catch up on!
LAST NACS
In 2019, the tobacco industry saw continued category evolution. For example, sales for disposable vapor devices increased sharply from 10.3% of total sales in August 2019 to 19.8% in May 2020 (cdc.gov). These trends, along with other industry developments prompted many conversations surrounding predictions for the future.
Subsequently, NACS 2019 is when ImageWorks Display debuted the latest innovation in the tobacco space, IMPACT!
WHAT IS IMPACT!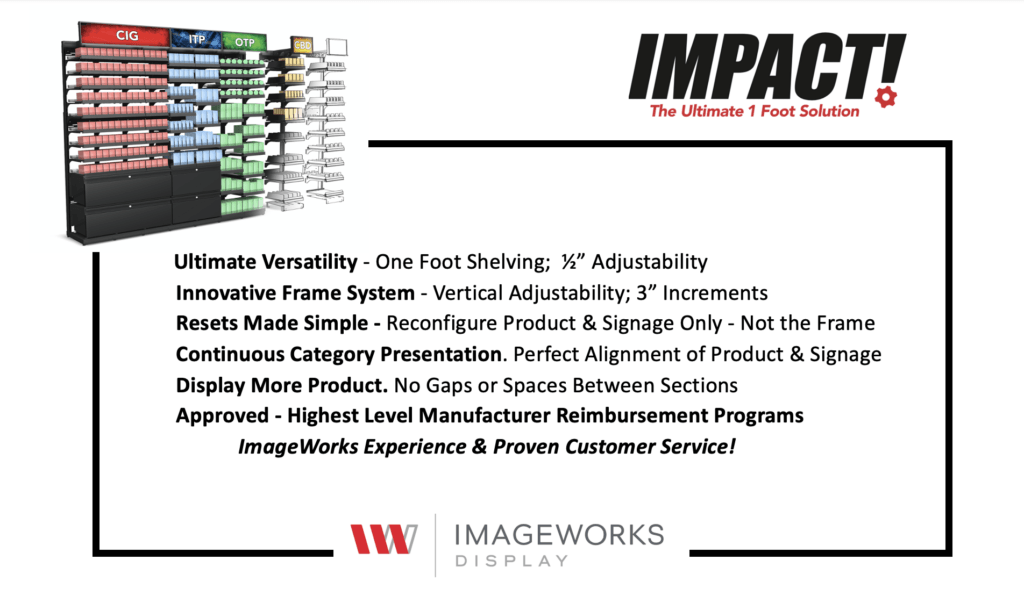 IMPACT! is the display solution created to address the needs of c-store and retail businesses looking for a system that can seamlessly adapt with the ongoing evolution ever-present in the tobacco category.  
This constant variation in the tobacco category means continuous space allocation is essential to the bottom line. Features like one foot shelving, ½ inch shelving adjustability, 3" vertical adjustability, no gaps between sections, and a patented framework make IMPACT! the most versatile in the market.
WHAT'S NEW THIS NACS
With over 1200 exhibitors, 420,000 sq ft of expo space, and over 40 educational sessions, we anticipate this year's NACS show to be as exciting as years past.
If you didn't get the chance to learn about the IMPACT! display system last NACS, it's not too late. This year you can visit us in the North Building / Hall B – Booth #648, where we will be featuring IMPACT! and more!
For a sneak peek at out booth location, you can view the interactive Expo Map HERE
Or view the graphic below: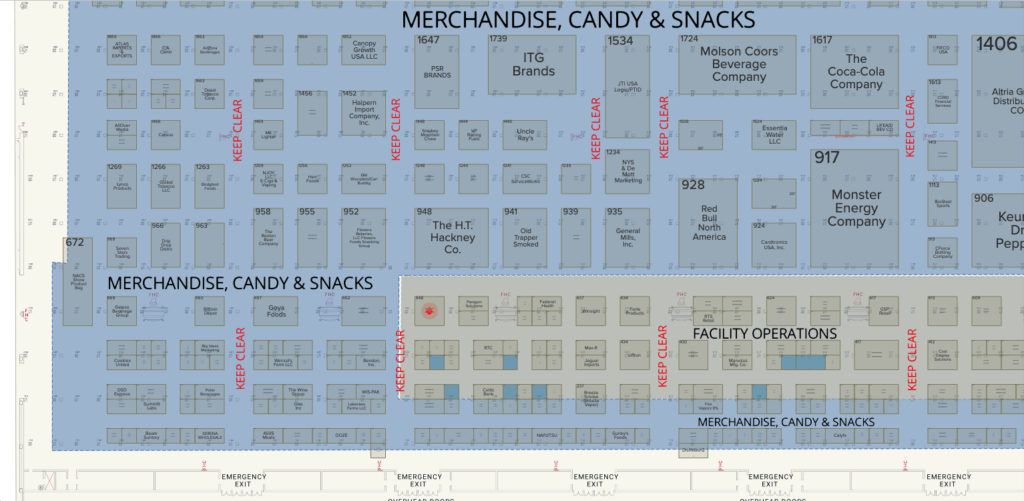 This year at NACS we redesigned our booth to incorporate a new look and functionality! A few new features include: countertop IMPACT! units, high-res LED monitors, and an open concept (as ability to distance & other COVID precautions remain important).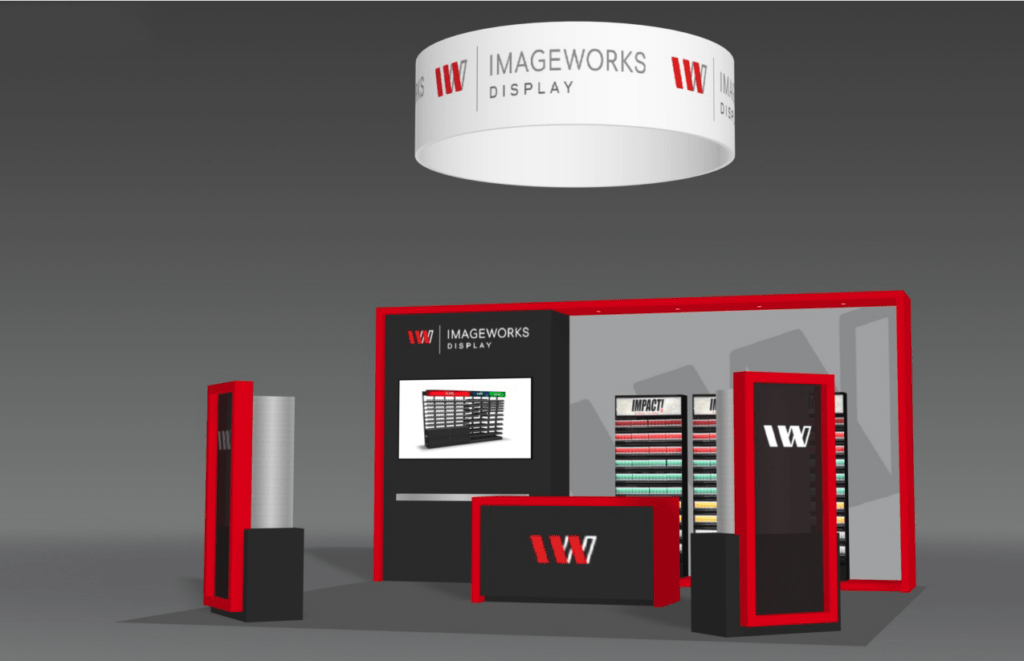 Our NACS 2021 Team is excited to share the footprint IMPACT! has made in only a short time as clients who have adopted this system are experiencing what increased versatility can truly do. Particularly regarding the feedback we are getting on how IMPACT! has made the reset process simple. With one unified frame, only products and signage need to be reconfigured. This system makes plan-o-gram and reset processes easy by minimizing store disruption and eliminating the need for third-party installers. To learn more, be sure to connect with us at NACS Booth #648!
We also invite you to our ImageWorks Lounge Booth #543 where we are scheduling time to connect with customers and share the latest ImageWorks innovations (including how the IMPACT! system can bring other products to life while offering the ultimate in versatility, adjustability, and quality.)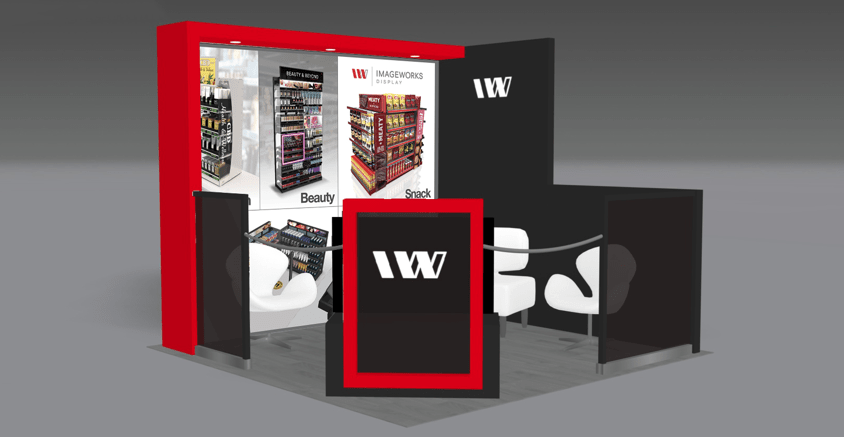 We look forward to seeing you there!